Michelson Interferometer Project Manual
Assembly and Experiments Version 1.10 (28-Jan-2021)
For contact info, please see the Sci.Electronics.Repair FAQ Email Links Page.

Reproduction of this document in whole or in part is permitted if both of the following conditions are satisfied:
This notice is included in its entirety at the beginning.

There is no charge except to cover the costs of copying.
---
Table of Contents
---
Preface
Author: Samuel M. Goldwasser

For contact info, please see the Sci.Electronics.Repair FAQ Email Links Page.

Copyright &copy 1994-2020
All Rights Reserved

Reproduction of this document in whole or in part is permitted if both of the following conditions are satisfied:

1. This notice is included in its entirety at the beginning.
2. There is no charge except to cover the costs of copying.

The information in this document is intended for use in hobbyist, experimental, research, and other applications where a bug in the hardware, firmware, or software, will not have a significant impact on the future of the Universe or anything else. We will not be responsible for any consequences of such bugs including but not limited to damage to the $100,000,000 wafer FAB that was purchased on eBay for $1.98 + shipping, financial loss from the waste of 28 spools of ABS due to the office 3-D printer fabricating a part with random dimensions due to loss of lock, or bruising to your pet's ego from any number of causes directly or indirectly related to the implementation and use of this system. ;-) This experimental setup was originally developed for Engineering student projects at Swarthmore College, Pennsylvania. The only safety issues with the experiments to be performed using this kit are with respect to the low power Helium-Neon (HeNe) laser. Sure, you could drop the breadboard on your foot, but that's outside our control. :( :-)
The first one is with respect to laser light and your vision. The output power of the laser is between 0.5 and slightly over 1.0 mW which is less than that of a typical laser pointer. Nonetheless, one should avoid looking directly into the beam or specular (shiny) reflections of it. However a momentary flash will not cause any permanent harm, only perhaps an afterimage that should go away in a few minutes at most. A 1 mW laser beam is similar in brightness to that of the noonday Sun. So treat it like a little red Sun in a cylinder. :)

The other one is electrical. The laser runs on a High Voltage (HV) low current power supply. As long as the laser cable is undamaged and securely attached to the power supply, the HV is safety tucked away inside. However, if the laser head is unplugged just after being on, there can be an annoying, though harmless charge retained on the HV connector due the capacitance of the laser tube, feeling like the shock from a static buildup when walking across a carpet on a dry day. But tossing the laser head across the room from a reflex reaction is bad form (and probably won't help your grade). So just don't touch the metal prongs for a few minutes, or short between the prongs with the metal-end of an insulated tool like a screwdriver.
Even though this laser is not likely to cause any harm, one should always take laser safety seriously. Someday you may be working with one that is truly dangerous.

---
Abstract
The Michelson interferometer is one of the most widely used configurations in a variety of applications including metrology (precision measurement). An experimental setup is presented which allows for several types of interferometers to be easily implemented and without requiring any special tools or test equipment. The behavior of various interferometer configurations will be explored as well as how the characteristics of the laser impact performance. Various enhancements are also described for both the laser and detector, as well as extensions to actual measurements like displacement (change in position) down to nm precision. The set of parts may be easily duplicated and/or modified for specific interests.

---


Back to Michelson Project Manual Table of Contents.
Introduction
Interferometers are the key technology is numerous applications in manufacturing and testing where the very minute wavelength of light is the "yardstick" providing non-contact measurements down to nanometer precision. In short, a light source is split into two parts that may travel differen paths and then recombined at some type of detector. Where the path lengths differ by an integer number of wavelengths, the result will be constructive interference and the output of the detector will be high; where it differs by an integer number of wavelengths plus one half wavelength, the result will be destructive interference and the output of the detector will be low. In between, the output will vary sinusoidally. With suitable detectors and electronics, remarkably precise measurements can be performed. For example, nearly every microchip manufactured in the explored universe has been done with wafer steppers whose stages were positioned using interferometry.

While interferometers are employed in a wide array of applications, the general emphasis for these experiments relate to the use of interferometery in metrology - precision measuremens of physical characteristics like displacement, velocity, angle, straightness, and more. The experimental setups will enable various interferometer configuration to be easily implemented and then tested with one arm being on a micrometer linear stage and/or with some other device or material that can vary the path length precisely. The light source is a Class 1A 633 nm Helium-Neon laser (HeNe for short) with an output power of between 0.5 and just over 1 mW. The basic detector is a biased photodiode connected to a dual channel USB oscilloscope. Variations and enhancements to these will be offered as options.

Among the areas that can be explored with the basic setups are:
Techniques for aligning the interferometer.
Resolution of the various interferometer configurations.
Sensitivity to alignment based on configuration.
Impact on performance of the coherence length of the laser source.
Inserting optics in one of the beam paths.
Using the interferometer as a pressure and/or temperature sensor.
There is no need to construct all of the interferometer configurations described below. Doing the Linear Interferometer (LI) first makes sense since there are detailed instructions on its construction, alignment, testing. Building the High Stability Plane Mirror Interferometer (HSPMI) would be the logical next step moving from cube corners to plane mirrors. It also permits the loudspeaker and/or PZT actuators to be added. Then after that one of the others. Perhaps coordinate with the other project students using this same kit so that each of you do different ones.

The following are some of the more advanced projects, but they may require additional parts and/or different parts including the laser that are not included in the basic kit:
Substitution of random polarized HeNe laser for the linearly polarized laser.
Construction of laser using laser tube, power supply, and mounts.
Analysis of interferometer behavior as a function of the laser modes.
Stabilizing the laser for single frequency operation using analog circuits or µSLC1.
Construction of Quad-Sin-Cos detector for displacement measurements.
Homodyne measurement display using µMD1 or µMD2.
Implementation of stabilized two frequency Zeeman HeNe laser.
Heterodyne measurement display using µMD1.
The suggested minimal set of experiments would be:
Construction of Linear Interferometer (LI).
Evaluating and explaining fringe response for various path length differences with respect to lasing modes.
Interferometer as pressure or temperature sensor.
Construction of High Stability Plane Mirror Interferometer (HSPMI).
Loudspeaker or PZT actuator for wavelength scale movement.
Note: Off-page links (including any clickable graphics) open in a single new window or tab depending on your browser's settings.
---


Back to Michelson Project Manual Table of Contents.
Interferometers for Metrology Applications
All of the measurements performed by these systems are based on variations of the Michelson interferometer, invented over 100 years ago by Albert Michelson. This is one of the simplest interferometer configurations but also one of the most widely used. The textbook version is shown below:
In short, a light beam is split into two parts which are bounced off of a pair of reflectors and recombined at a detector. Any change in the relative path lengths of the two "arms" formed by the reflectors results in a phase shift between the waves in the two beams resulting in constructive or destructive interference, which can be measured and converted to displacement (change in position) down to nanometer precision. All other types of measurements made by these systems are based on opto-mechanical configurations designed such that changes in the measured variable are detectable by what is in essense a Michelson interferometer.

Where the Path Length Difference (PLD) between the two arms is small, the requirements for the laser are not very stringent. In fact, for very small PLDs, an LED or even a totally incoherent source like an incandescent lamp may be substituted for the laser. However, to be useful for the PLDs necessary for most applications (millimeters to 10s of meters), the light source must be a laser. And not just any laser, but one that has a narrow "linewidth". While the popular concept of a laser is of a light source that is monochromatic (single color or wavelength), in reality most lasers do not even come close. It takes careful design and implementation to achieve that. For these metrology applications the laser should ideally produce an output that is a single optical frequency with a linewidth approaching zero. In practice, it isn't that narrow but can result in a linewidth of much less than 1 MHz, resulting in a usable PLD of 100s of meters. This is usually a low power stabilized HeNe laser. However, for PLDs of a few inches, a common (much less expensive) unstabilized HeNe laser will be adequate.

Engrave PLD on your brain. It will be used throughout this manual. :)

The simple Michelson interferometer setup can be used in a metrology system, but it has severe limitations which make it impractical for most applications. Alignment is extremely critical. Even the slightest deviation from perfect alignment will result in a reduction or loss of signal. Yet when perfectly aligned, one half of the optical power from the laser reflects directly back into the laser - which may destabilize it resulting in erratic fluctuations of its output in amplitude, optical phase, optical frequency, and polarization.

The diagrams below show some variations on the angles of the Beam-Splitter (BS) and Mirrors (M1, M2).
The first one is essentially the same as the diagram, above. The "Single Angled" one does nothing to prevent back-reflections. And while the "Double Angled" version does eliminate back-reflections, the two beams are angled at the detector which means their relative phase will vary across the detector. That is undesirable for our experiments in at least two ways: First, it will mean that the detector won't see a clean fringe signal. In fact there may be little or no signal depending on how the fringes average across its face. Second, alignment will change as either mirror is moved making testing with respect to PLD very tricky. But can you suggest an application where it may be useful?
The first enhancement of the Michelson interferometer is to add a means of separating the outgoing and return beams so that there is vitrually no optical power returned to the laser. The simplest way to do this is to replace the mirrors with Retro-Reflectors (RRs), typically cube-corner (trihedral) prisms, which have the property of returning the beam directly back parallel with the outgoing beam, but which may have an offset. In this way, virtually none of the reflected light ends up back at the laser. The use of the RRs also greatly reduces the sensitivity to alignment as any change in their angle is converted to a small change in the distance between the outgoing and return beams, but they remain parallel.
All of the practical interferometer configurations include at least one cube corner retro-reflector.

The second enhancement is to use a Polarizing Beam-Splitter Cube (PBSC) in place of the 45 degree partially reflecting mirror. While a plate beam-splitter could be used, the PBSC is much more common.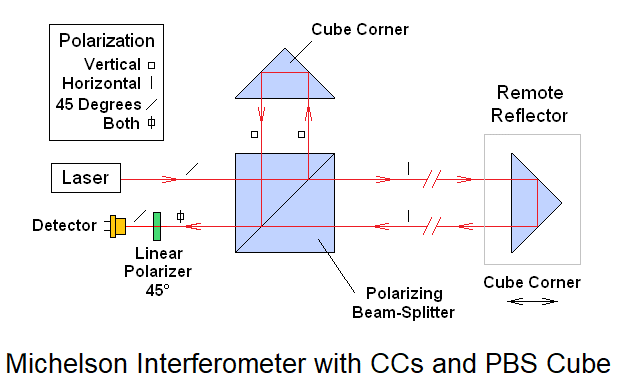 The beams reflected to the two arms of the interferometer then have orthogonal polarization which effectively makes them independent until they are combined at the detectors.

The result is then one of the most widely used configurations - the Linear Interferometer (LI), which was the first one used by HP in their original 5500A laser interferometer displacement measuring system. (As an aside, I do NOT know where that name "Linear Interferometer" comes from except perhaps that the inital configuration was in-line with the laser and thus "linear".) In practice, Arm 1 is used as the reference and is made as short as possible with the Cube Corner (CC) attached directly to the PBS cube. Both arms can move where differential measurements are required.

With the use of the PBS, the maximum amount of the laser optical power is available - virtually nothing exits out the unused side of the beam-splitter as it would in the basic Michelson setup, above. However, at least half the power is lost in the detection scheme that is typically used so it would end up being similar. In principle, this wasted power can be diverted to a second detector. Their difference will then have twice the amplitude and the signal-to-noise ratio will nearly double. This is rarely, if ever, done though. But for the more complex interferometer configurations described later as well as for use with two frequency lasers, the use of the PBS is essential to either incurring very large losses, or for the schemes to work at all.

However, since the laser used in these experimental setups are not single frequency, the PLD between Arm 1 and Arm 2 should be minimized for the initial setup. The effects of larger PFDs may be explored once "first signal" is achieved. Alternatively, a single mode laser can be built. Much more on all this below.

Here are several interferometers that may be used for measuring displacement (change in position). The first 4 are the most common.
Linear Interferometer (LI) Simplest, cube corner for remote reflector, single pass: resolution X1.

Plane Mirror Interferometer (PMI) Plane mirror for remote reflector, double pass: resolution X2.

Single Beam Interferometer (SBI) Compact, small cube corner for remote reflector, single pass: resolution X1.

High Stability Plane Mirror Interferometer (HSPMI) Plane mirror for remote reflector, sensitivity to temperature changes <1/10th that of PMI, double pass: resolution X2.

Modified Linear Interferometer (MLI)Same architecture as SBI but beam paths separated, cube corner for remote reflector, single pass: resolution X1. It really only has "linear" in its name because it uses cube corners like the basic LI.

Double Pass Linear Interferometer (DPLI) Similar to the HSPMI but with cube corners for the arm reflectors, double pass, resolution X2. Like the MLI, it really only has "linear" in its name because it uses cube corners like the basic LI.

Single Pass Plane Mirror Interferometer (SPPMI) Uses NO cube corners, single pass: resolution X1. The SPPMI may also be called the "No Cube Corner" interferometer. It is most similar to the basic Michelson interferometer but uses QWPs to avoid back-reflections. However, it is similarly very sensitive to misalignment and useful only over short changes in PLD.

High Resolution Plane Mirror Interferometer (HRPMI) Doubles the resolution compared to the PMI or HSPMI but is much more complex and tricky to align. Quadruple pass, resolution x4. Additional parts and determination may be required to construct this.
When used in a displacement measuring system with a 633 nm HeNe laser, 1X represents a full cycle resolution of ~316 nm; 2X of ~158 nm, and 4X of ~79 nm. For a homodyne system with a Quad-A-B deterctor, there are 4 counts per cycle so that gets multiplied by 4. The very commonly used PMI will have a resolution of 40 nm and interpolation techniques can extend it down to under 1 nm.
---