Specifications The diagram below - a sort of a hybrid between an electronic schematic and wiring diagram - shows the parts required for an Atmega328 Nano 3.0 system incorporating all the bells and whistles. Note that bypass capacitors (0.1 uF ceramic in parallel with 22 µF electrolytic) are recommended across the +3.3, +5, and REF pins (not shown). These will both cut down on noise in the signals and prevent erratic behavior like random resetting of the Atmega.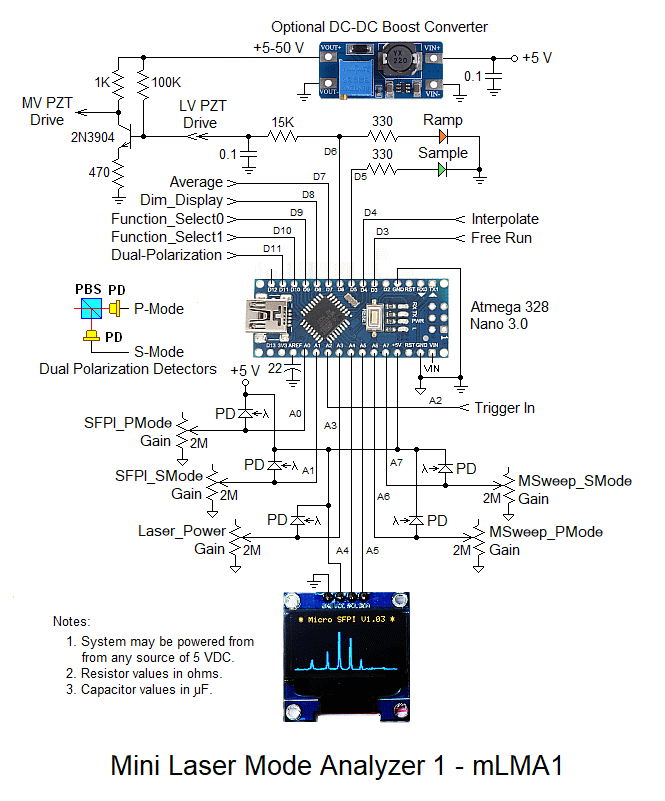 Most of the half dozen connections on the breadboard are made with the electronic parts themselves or bits of excess wire cut from their leads. But there will be a need for a few insulated jumpers which should use #22-#24 solid hookup wire stripped to fit in the holes.
The pinout for the OLED may differ depending on where it was purchased. Especially important are VCC and GND, which may be swapped. Connecting it with reverse polarity even for an instant will likely damage or destroy the device. And while the schematic shows VCC for the OLED being 5 V, it will run on 3.3 V and that may be safer if the source of 5 V for the Atmega isn't USB.
The following has everything except the boost circuit components, which isn't needed to scan more than 1 FSR using the typical PZT beeper element.
Electronic parts list for mLMA1-V1:

 Qty Description                    Comments
-------------------------------------------------------------------------------
  1  Atmega 328P NANO 3.0           Arduino board

  1  96" 128x64 I2C SSD-1306 OLED   OLED Display
 
  1  6x8 cm Prototyping. board      Should fit dual polarization

  1  Super bright LED, 3 mm         Sample indicator, green
  1  Super bright LED, 3 mm         Ramp indicator, blue

  2  Resistor, 10K ohm, 1/4 W       Current limiting for LEDs

  4  Resistor, 470-510 ohm, 1/4 W   5V-3.3V level conversion
  4  Resistor, 1K ohm, 1/4 W        5V-3.3V level conversion

  2  Resistor, 15K ohm, 1/4W        Ramp filter

  1  Resistor, 330 ohm, 1/4 W       Photodiode protection

  1  Resistor, 1K ohm, 1/4 W        External Trigger input

 *2  Trim-pot, 1M ohm               SFPI P and S gain
 *2  Trim-pot, 100K ohm             MODE P and S gain

  1  Trim-pot, 1M ohm               Ramp amplitude

  2  Capacitor, 0.1 µF              Ramp filter

 *2  Capacitor, 100 pF              SFPI P and S PD filter (optional)
 *2  Capacitor, 1 nF                MODE P and S PD filter (optional)

  2  Capacitor, 22 µF               5V and 3.3V bypass
  2  Capacitor, 22 µF               REF and PD bypass

  1  DIP switch, 4 position         "Piano key" style feature select

* Only 1 of each required if dual polarization is not supported.

For info on the dual polarization SFPI head using Thorlabs cage parts, see Mini Laser Mode Analyzer 1 (mLMA1) Version 2.

Not likely any time soon unless I'm really really bored. :) Here is a list of the Atmega 328 Nano 3.0 external pins used by mLMA1. Not all of these are shown on the wiring diagram since their definitions are in flux:

 Arduino Pin   Physical Pin   Function
------------------------------------------------------------------------------
     D3             6         Free_Run (no trigger) if high or open
     D4             7         Interpolate points if high or open
     D5             8         Sample - High during actual scan or capture
     D6             9         Ramp - PWM of scan ramp for SFPI only
     D7            10         Average n (default 8) points if high or open
     D8            11         Dim_Display if high or open
     D9            12         Function_Select 0
    D10            13         Function_Select 1
    D12            15         Dual_Polarization (future)
    D13            16         Same as D5 (Nano_LED, Atmega "L")

     A0            20         SFPI_PMode detector input (0 to 5V)
     A1            21         SFPI_SMode detector S-Mode input (0 to 5V)
     A2            22         Trigger input - external trigger only (0 to 5V)
     A3            23         Laser power meter input.
     A6            26         MSweep_PMode detector input (0 to 5V)
     A7            26         MSweep_SMode detectoreinput (0 to 5V)
    +5V            27         +5 VDC input or from on-board regulator
    VIN            30         Optional DC input (+7 to +12 VDC)
    GND           4,29        Ground/Common

CAUTION: The Nano 3.0 can take +12 VDC on VIN since it has an on-board 5 V regulator. But apparently there can be problems when connecting to USB as I found out. Inadvertent ground loops (or something) can result in erasing its brain or damaging the USB chip. Exactly why this occurred is still not clear. The NANO was connected to USB and then the 12 V adapter was plugged in, at which point the USB dropped out, never to be heard from again with this board. The regulated wall adapter was on the same circuit and isolated in any case, so it should not have caused problems. The Atmega microprocessor is still running something so it's not totally dead, thus the suspicion that the problem is the USB chip. But I've been unable to change it so far, even with a programmer. Therefore, it is recommended that only the USB on a PC or laptop, a USB wall adapter, USB backup battery, or 5 V power supply be used.

None.

When the firmware starts up, the initial display will be something like: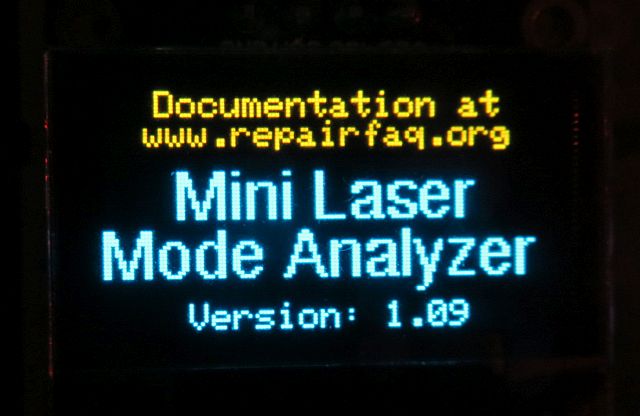 Initial Display after Boot
Except for the version number. ;-) In a second or so, it will start scanning.

Before the Atmega board can be used, a Windows device driver must be installed to enable upload of firmware and communications with the mLMA1 GUI.

There are many ways of doing this - some which may be overly complex, but what I've done for the Atmega 328 Nano 3.0 board is to go to Arduino Software and install the current version of the Arduino IDE (V1.6.9 as of May 2016). (I'm not sure if the board needs to be plugged in to a USB port during this process, but mine was. During the install process, it will ask to install the drivers. Reply "Yes" to all its requests. When the Arduino IDE is started for the first time, go to "Tools", "Board", and select "Arduino Nano". If the Nano is plugged in, its COM port should appear under "Tools", "Port".

More info on software, drivers, and more at Getting Started with Arduino and Genuino on Windows.

The more complex installations may be required if you bought the Nano from eBay or off the back of a truck, depending on whether it has the genuine FTDI USB communications chip. And even more complex if it doesn't have the bootloader installed. Links for driver installation may be found under References under "Arduino". Instructions for burning the bootloader may be found in the section: Burning Bootloaders into the Nano or Pro Micro.

The Arduino IDE can be used for compiling and uploading, though I prefer UECIDE, below, because compilation and uploading is much faster. For use with the Atmega328 Nano 3.0, either is fine. However the ATtiny and Pro Micro may only be supported by the Arduino IDE. (The latter may come up as Arduino Leonardo though.)
---
UECIDE will work with all versions of the firmware. But the only version of UECIDE I've had success compiling firmware without errors is Version 0.8.8alpha17 though I assume that more recent versions like 0.8.8alpha22 should also be satisfactory. Assuming that, download it from